Chinese New Year Draw Winners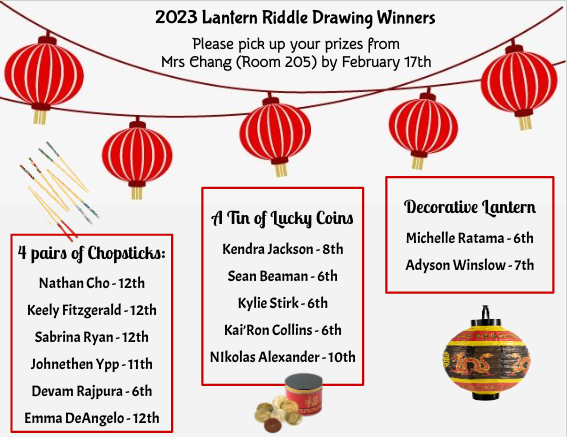 As Chinese New Year celebrations come to a close, the winners for the Trivia are finally announced.  Students who answered the "Extreme" questions were added into the lottery in hopes to win a prize!  The prizes included chopsticks, lucky coin chocolate tins, and lanterns.  Unfortunately, Schoology messages did not express the winners as previously announced through last week.
The winners are to be announced as the following:
Chopsticks: Nathan Cho, Keely Fitzgerald, Sabrina Ryan, Jonathan Yoo, Devam Rajpura, and Emma DeAngelo
Lucky Coin Chocolate Tins: Kendra Jackson, Sean Beaman, Kylie Stirk, Kai'Ron Collins, and Nikolas Alexander
Decorative Lanterns: Michelle Ratama and Adyson Winslow
Congratulations winners!  Chinese 2, 3, and Ms. Chang appreciates the support and excitement everyone contributed to make the Chinese New Year celebrations worth the effort!