Human Error Sends State Of Hawaii In Panic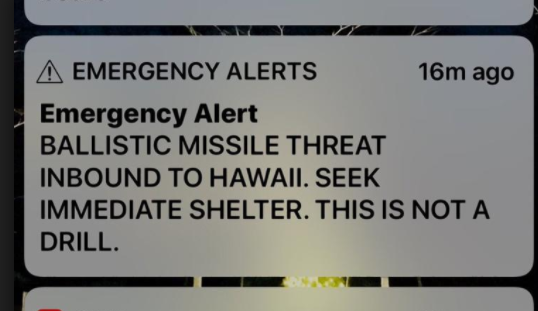 Hang on for a minute...we're trying to find some more stories you might like.
An emergency missile alert was accidentally sent out to the entire state of Hawaii on Saturday. It was due to an employee who "pressed the wrong button". Hawaii residents and vacationers received the following message:  "BALLISTIC MISSILE THREAT INBOUND TO HAWAII. SEEK IMMEDIATE SHELTER. THIS IS NOT A DRILL". People were left to panic for 38 minutes until the second emergency alert was sent confirming the false alarm. Hawaii's Emergency Management Agency provided a bit more detail Sunday on what went wrong. The mishap took place during a routine drill run. Hawaii began the tests in response to escalating tensions between the US and North Korea, which could hit the islands with a missile within 20 minutes of a launch. After a shift change during the drill an officer in the emergency operation center mistakenly selected an incorrect "template".  A note appeared on the computer, asking the officer to confirm that they wanted to send the message, the officer responsible accidentally clicked yes. Though the matter was contained, it still sparks debate on the rising tensions between countries.