Protest at St. Anthony of Padua Catholic Church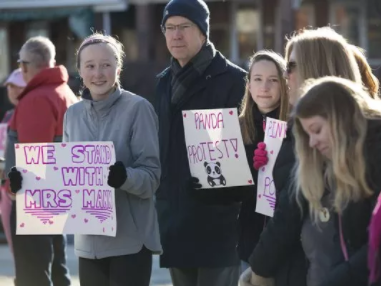 Dozens of people gather outside of St. Anthony of Padua Catholic Church all dressed in pink. They're taking part in a protest for the abrupt firing of Cindy Mann, the head of Padua. On Friday. Jennifer Jamieson, a mother of a student at Padua Academy, said "We're not trying to pick a fight. We're totally embroiled in this. We just want them to talk to us.".
The protesters are all dressed in pink because Mann is known for her pink shoes. They've said the color choice to show their support was easy. Many have claimed Mrs. Mann was the spirit of Padua Academy.
Parents received a letter on Friday informing them that Mrs. Mann would no longer be in charge of the school. The letter gave no reason or explanation of why she had been removed from her position. Leeza Butler, a 21-year-old alumni claimed "I don't understand why Mrs. Mann was fired. I want answers.".
A larger act of protest is being planned by the students at Padua for Monday, March 19th. They're going to sit outside on the steps of the school for most of the day. They said they won't return until Mann does.
Students, parents, teachers, and alumni are all hoping that these acts of protest and support for Mann will cause her to be reinstated. They all agree, Padua will not feel the same without her. A parent of a student said, "She's taught the girls how to be strong and stand up for what they believe in. We're standing up for her today.".
Photo by: Jerry Habraken, The News Journal