Zoom Fatigue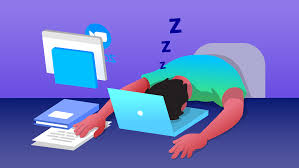 When Zoom was first introduced to us, we saw it as a shiny new tool. That it could make life easier and more enjoyable to us in a time of worry. But now you may feel drained after a workday or you just want the old "normal" back. Mentions of a so-called 'Zoom Fatigue' have steadily increased on social media platforms. But why is this happening? 
Zoom Fatigue is the tiredness or burnout of over-used video conferencing platforms. We feel this burnout because we have to work harder to use and understand non-verbal communication. When we interact with people face to face, we don't just listen to their voices, but we also looking at their body language, expressions, or hand gestures. On Zoom it's hard to capture all those things from the shoulder up, or a tiny black screen with a name on it. So, our brains are on overdrive trying to figure out how someone is feeling, or even if they're paying attention. It's much worse on gallery view, your brain forcing itself to comprehend so many people at once.
This also brings us to video chats having less participation. Sometimes when the class is asked a question, there may be some awkward silence before a student answers it. The student may even be the same for every question. If you view a single speaker at a time, you can't recognize how or if participants are behaving. And that is something you would usually pick up with your peripheral vision.