Apple Releases IOS 15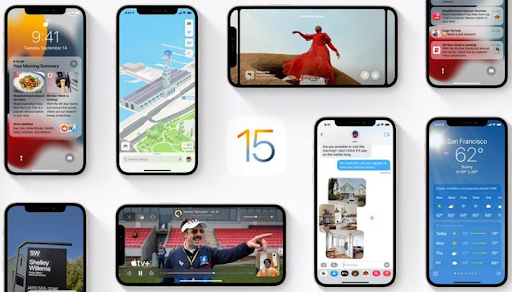 Apple finally releases the long-awaited IOS 15 update. This update is available to those with iPhone 6S (2015) or newer, but for most features to be available it would have to be an iPhone XS or newer. New features include a fancier facetime, focus mode, a better safari, improved maps, and icloud+. There are many more features available, you can discover those on your own. 
Fancier Facetime, facetime now includes a gridlike look for multiperson calls. There is also portrait mode, like in the camera app, putting a focus on your face and blurring the background. You can also create FaceTime links to share and invite others to a video chat, and these can be added to your calendar. Those with the link can join these calls through Google Chrome or Microsoft's Edge browser.
Focus Mode, with this feature you can allow or block certain notifications from certain apps and contacts. You can also change your home screen to match the mood. You can choose between profiles like Work, Personal, and Sleep, and your home screen will show apps and widgets related to the respective mode. 
iCloud+, This new service is available to anyone who subscribes to iCloud already with no pricing. It allows users to create burner emails when signing up for service online, expands HomeKit Secure Video support; and adds a feature called iCloud Private Relay, which encrypts all the internet traffic leaving your device so that no one can view your data, somewhat like a virtual private network.