Welcome Ms. Suria!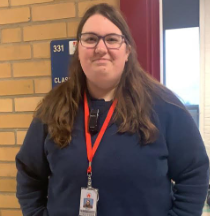 Conrad Welcomes Ms. Suria as a new addition to the teachers and staff.  She teaches 6th grade ELA, and took the time to answer some questions so the Conrad Community can get to know her.
How did you get into teaching?
"I knew I wanted to be a teacher by the time I started college. When I was in elementary school I actually wanted to be a gym teacher, probably because I thought it looked fun. When I decided to enter college as a history major I knew that I would probably choose to go into teaching after school. At the time I could not have told you why I wanted to be a teacher, just that it was a choice that made sense to me. In hindsight, I think that I was inspired by the great teachers I had as a high school student. The fact that I largely enjoyed my teachers is what kept me going throughout high school. In particular, my favorite teacher was my 10th-grade English teacher, Mr. Dippell. He was the first teacher that I was ever comfortable enough around to break out of my shell and actually be a willing participant. Without realizing it I chose a profession where I could impact kids the same way my teachers impacted me."
Where was your first teaching job, if any?
"Technically, my first job in education after college was as a substitute teacher. I spent about a year and a half as a substitute in the school district where I grew up in Pennsylvania. Last spring, I got my first long-term position as a long-term substitute at Avon Grove High School where I taught social studies. I was there from January to June 2022."
Where did you go to college?
"I went to college at Temple University. I studied history for my bachelor's and secondary education for my master's."
What is your favorite thing about teaching?
"My favorite thing about teaching is getting to create memories with my students. I love helping them learn more over the course of a school year and improve themselves in some way. I want to help students to feel as though they can succeed in school, and also help them feel more confident as a member of the classroom."
What prompted you to teach at conrad?
"I decided to begin to look for teaching opportunities outside of Pennsylvania and came across an open position at Conrad. After looking into the school I knew it would be a great place to be. I sent my application and came to interview at the end of the summer. The rest is history, as I am now here. I am excited to learn more about the students and teachers at Conrad as the year progresses."
Welcome Ms. Suria!