Welcome Mr. Roth!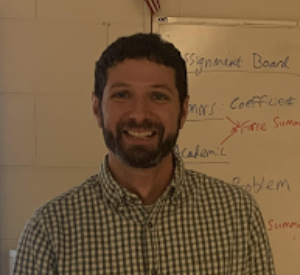 Conrad welcomes a new teacher to their staff!  Mr. Roth is the new high school physics teacher, who joined us in late November.  We've asked him some questions so the Conrad Community can get to know him!
1) How did you get into teaching?
I had so many great teachers in high school that came to school everyday with a smile on their face and excited for the day ahead.  Their classes were fun, interesting, and engaging.  They made high school a welcoming place that I wanted to go to everyday.  I credit these teachers with encouraging me to pursue a career as an educator.
2) Where was your first teaching job, if any?
This is my 16th year teaching.  The previous 15 (and 2 months) were at Appoquinimink High School.
3) Where did you go to college?
I went to the University of Delaware for both my undergraduate and graduate degrees.
4) What is your favorite thing about teaching?
My favorite part of teaching is that everyday is different.  I have friends who are just so bored with their day-to-day work-life.  It is impossible to be bored as a teacher.
5) What prompted you to teach at Conrad?
There were many reasons that I decided to pursue a teaching position at Conrad.  Since joining the team these past few weeks, I can say that the best reasons to teach at Conrad are the exceptional students and staff I have the privilege to work with everyday.