Antonio "Baby" Brown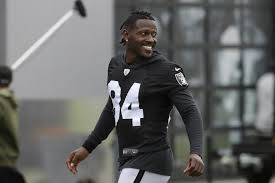 Antonio Brown is an American football player, and a pretty good one if we're going, to be honest. Brown started his career in Pittsburg where he was selected to 7x Pro-Bowls(2011, 2013-2018), 4x first-team All-Pro(2014-2017), 2x NFL receiving yards leader(2014,2017), 2x NFL receptions leader(2014, 2015), and NFL receiving touchdown leader(2018). Antonio Brown is a force to be reckoned with but off the field, it's a different story. In 2018 it was reported that Brown wanted out from Pittsburgh, then it was rumored that Brown and the Steelers quarterback Ben Roethlisberger started to have trust and leadership issues. A few weeks later Brown demanded a trade. March 9th, 2019, The Oakland Raiders traded a 3rd and 5th round 2019 draft picks for Antonio Brown. That's where the Oakland drama begins, August 3rd,2019, Antonio Brown misses practices because of an apparent foot injury that turned out to be frostbite that he got from not wearing the proper footwear in a cryotherapy chamber. Brown then later filed a grievance to the NFL about wearing his old helmet which he then ended up losing that case. Brown and Raiders GM Mike Mayock then ended up getting into a heated exchange over being fined for missing mandatory practices. Brown allegedly threatened to punch Mayock in his face. September 7th, 2019 the Oakland Raiders voided Antonio Brown's $21 million contracts and then released him, a few hours later the New England Patriots picked Brown up off of free agency. Brown's new journey leads him to New England where he will play with future hall of fame Tom Brady.
About the Writer
Justin Charlton, Staff
Hi my name is Justin Charlton. I am a junior here at Conrad and I have been attending Conrad since 6th grade. I am currently in the BioMed pathway and...