The CDC Banned Evictions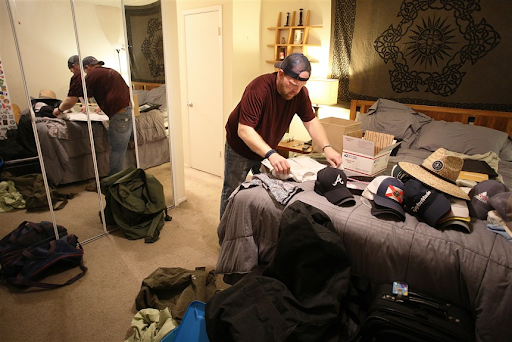 The day before Thanksgiving, Steve Cowley, a beverage salesman, was at home in Pensacola, Florida, when someone started pounding on the front door. It was the county sheriff serving an eviction notice. Cowley, 36, had nowhere to go. Out of work because of Covid-19 and behind on his rent, he was doing his best to survive on $275-a-week unemployment checks. His car had been repossessed, he said, so he could not live in it, a common refuge for evicted tenants. At least one federal judge in Georgia has ruled against landlords who argue the CDC ban was unconstitutional. But that hasn't stopped Kinsey from continuing to evict based on it. On Dec. 1, she ruled against another local renter, using the same rationale.
Kinsey's clerk said the judge would not comment on the cases, citing court policy. The CDC's eviction moratorium was supposed to protect renters in all 50 states through the end of the year. Keeping Covid-affected renters in their apartments, the CDC said, would reduce the potential for virus transmission likely to occur as displaced people were forced to move in with family or friends or into homeless shelters. "If policymakers don't intervene, we are facing the very real possibility of tens of millions of people losing their homes this winter," said Diane Yentel, president and CEO of the National Low Income Housing Coalition, in an email. "The consequences will be catastrophic — for children, families, communities and our country's ability to contain the pandemic." Apart from the temporary CDC moratorium, the U.S. has no federal eviction policy and each state has different rules for landlords and tenants. In Ohio, for example, landlords can proceed with evictions if a tenant is just one day late with the rent.
Some states have implemented their own eviction bars. But at least seven states — Arkansas, Georgia, Missouri, Ohio, Oklahoma, South Dakota and Wyoming — have never put such protections in place. All are Republican-controlled and most have resisted many Covid-19 measures. Bill Faith, executive director of the Coalition on Homelessness and Housing in Ohio, told NBC News in an email that Springfield, a small Ohio city near Dayton, has seen its homeless population explode in recent weeks. "Demand for shelter is now nearly seven times what it was at the beginning of the pandemic," Faith said of Springfield. Amanda Frank, 39, of Wooster, Ohio, near Akron, became homeless in November when a judge ruled against her in an eviction proceeding. For a year, Frank had rented a townhouse from a local contractor and builder, Sommer & Swartzentruber, where
she lived with her boyfriend and 17-year-old daughter. Frank had fallen behind on her rent after her boyfriend was laid off due to Covid-19, she said. Although she received rental assistance from a local church and ultimately paid her landlord what she owed, the judge hearing her case sided with the landlord, saying she'd been able to pay the rent but had not done so on time. Working for a house-cleaning company, Frank had become the sole breadwinner and she provided documentation to the court that she'd been affected by Covid-19 as required by the CDC moratorium, she said. In 2003, Kinsey, the Escambia County judge, was disciplined and fined $50,000 by the Florida Supreme Court for improper conduct and ethical violations during a 1998 election campaign for the office of a county court judge. Kinsey's clerk did not respond to an email seeking comment about the finding. For now, the lack of a federal policy and approach to evictions during a pandemic means states are taking the lead. This results in "a lot of variation, and a lot of discrepancies amongst the states in terms of their responses," said Paul Nolette, chair of the political science department at Milwaukee's Marquette University.