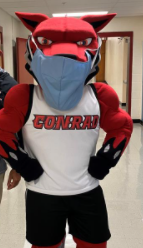 Recently, a survey was added to the Conrad Howler Website to see what everyone had thought about the hybrid schedule while it had lasted, here are the results:
How would you rate the hybrid schedule overall? (1-10)
Most students found the scheduled fine(6-8/10)
If you were in person, was there a certain activity your teacher did that you really enjoyed?
Almost everyone who responded explained that they really liked doing all the hands-on projects(Kahoot was a close second in popularity)
What did you find most difficult to adjust to?
Students mostly stated that waking up early and having longer lunch periods were the hardest things to get used to(extra homework and juggling between zoom and in-person were also difficult)
What did you miss most about in-person learning?
Nearly everyone said they missed seeing and making friends in school
When in-person, did you feel safe(everyone was obeying regulations)?
Every single person on the survey stated that they felt safe, some students mentioned that certain groups of people were not following covid regulations but added that the majority of people in school were being responsible.
If you were virtual while others were in person, how would you say the class went? (attention divided, everyone was included or not included, etc.)
Those who responded to the poll said that the class was fine, they just preferred in-person learning.(However, there was still a large portion that felt the attention was divided and were struggling to understand the teacher)