Trump begs Georgia to overturn election results
On January 3, 2021, Donald Trump begged Georgia's secretary of state to overturn the election results in an astounding hour-long phone call obtained Sunday by NBC News in which the president offered a smorgasbord of false claims about voter fraud and repeatedly berated state officials. "So look," Trump told Secretary of State Brad Raffensperger. " I just want to find 11,780 votes, which is one more than we have. Because we won the state." The phone call featured Trump, days before he is set to leave office, pleading with Raffensperger to alter the vote total and launching into a barrage of discredited conspiracy theories about the election. Trump even suggested that Raffensperger, who is a Republican, may face criminal consequences should he refuse to intervene in accordance with Trump's wishes. Raffensperger and his office's general counsel, Ryan Germany, pushed back against Trump's claims and said President-elect Joe Biden's victory of about 12,000 votes was accurate.
Since his loss in November's election, Trump has sought to overturn the results by pushing state legislatures to appoint pro-Trump slates of electors and promoting legal efforts that have fallen short. He has also sought to press top Republican officials in states like Georgia and Arizona to disregard the outcomes of elections in their states, baselessly alleging widespread fraud. "We now have irrefutable proof of a president pressuring and threatening an official of his own party to get him to rescind a state's lawful, certified vote count and fabricate another in its place," Biden senior adviser Bob Bauer said in a statement. "It captures the whole, disgraceful story about Donald Trump's assault on American democracy. "There's no way I lost Georgia," Trump said. "There's no way. We won by hundreds of thousands of votes."
The Georgia officials maintained that their numbers were accurate and reflected an honest election. "No, you don't. Not even close," Trump said. "You're off by hundreds of thousands of votes." Later, after Trump made more claims of fraud, Germany said, "What we're seeing is not at all what you're describing," to which Trump asked: "Why do you keep fighting this thing? It doesn't make sense." "I know this phone call is going nowhere other than ultimately, you know — look, ultimately I win, okay?" Trump said. "Because you guys are so wrong. … You've treated the population of Georgia so badly."
"President Trump's recorded conversation with Georgia Secretary of State Raffensperger is more than a pathetic, rambling, delusional rant," Durbin said in a statement. "His disgraceful effort to intimidate an elected official into deliberately changing and misrepresenting the legally confirmed vote totals in his state strikes at the heart of our democracy and merits nothing less than a criminal investigation. "The President is unhinged and dangerous," he added. "Those who encourage and support his conduct, including my Senate colleagues, are putting the orderly and peaceful transition of power in our nation at risk." Trump has been obsessively working to contest the election results since news outlets began projecting Biden as the winner. The president and his allies filed over 50 lawsuits across the county, almost all of which have been unsuccessful. At a rally in Georgia last month, the president remarked, "I've probably worked harder in the last three weeks than I ever have in my life. Doing this."Trump has targeted Raffensperger and other top Georgia Republicans, including Gov. Brian Kemp and Lt. Gov. Geoff Duncan, whom he called "a disgrace" Sunday. Tweeting Sunday morning at Raffensperger, Trump noted his conversation with the secretary of state. "He was unwilling, or unable, to answer questions such as the 'ballots under table' scam, ballot destruction, out of state 'voters', dead voters, and more," Trump said. "He has no clue!"
About the Writer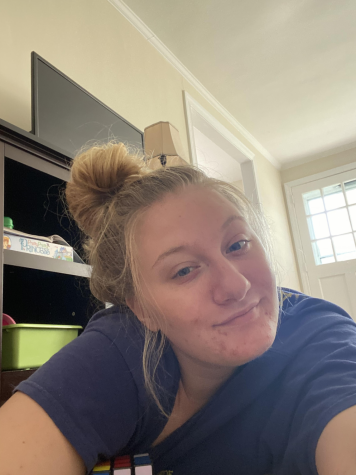 Eske Campen, Writer
My favorite class is math because I find it interesting and easy to understand. My favorite news to watch is anything to do with celebrities. This is my...