Conrad's Canned Food Drive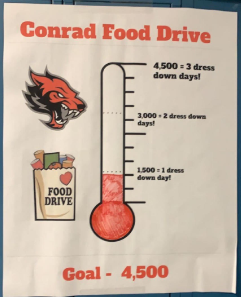 From October 31- November 10 Conrad will be holding its food drive for the St. Matthews Food Pantry. Non perishable food items are asked- but no glass! If the school can get to each goal then students and staff can partake in dress down days. With the class donating the most cans earning an additional free dress down day. Each grade can bring cans to their respective drop off locations listed below:
Grade: Teacher: Room #
6: Rees: 233
7:Gillin: 225
8: Swain: 217
9: Tran: 207
10: Pappas: 210
11: Kobosko: 223
12: Nowak: 208
Goals:
The school wide goals to achieve are 1500 cans for one dress down day, 3000 cans for two dress down days, and 4500 cans for three dress down days. Once again noting that the winning grade will get another free dress down day. Let's get these cans Conrad!